"Do you need to restructure
your business in order to
maximise its potential?"
"4 convenient office
locations - you come to
us or we come to you."
"Save time and money by
having one firm for all your
legal and accounting needs."
"We can help you on
the path to achieving
your business goals."
"Giving our clients the
best integrated legal and
accounting advice."
Starting a Business in Australia
You've decided to start a business in Australia, but where do you begin?
Whether you have a great idea for a new business or are looking to take over an existing operation, having accurate information about your obligations, industry, market and finances is vital to building a successful venture. There are a range of ways that you can set up a business in Australia – like setting up a local subsidiary or registering as a foreign company, and there are strict legal and financial requirements that are associated with these decisions.
Starting a Business has been developed to provide advice and information to help you with the key aspects of researching, planning and setting up a business in Australia. We provide a cost-effective service for navigating with you through the legal and financial obligations, and can also assist with the ongoing requirements of your business here in Australia.
Our team of specialists have years of experience helping overseas organisations starting new businesses in Australia, buying existing businesses, setting up subsidiaries and  purchasing franchises. With The Quinn Group, you will receive the benefit of our years of experience and commitment to providing superior client service.
The Quinn Group is pleased to announce that it has been awarded the AS/NZS ISO 9001:2008 accreditation in August 2011 for its legal and accounting service divisions. This was based on an independent audit by SAI Global examining our firm's work processes, quality management and control systems which verified that the firm's processes, systems and procedures fully complied with the ISO 9001:2008
The accreditation is assessed each year to ensure that practices and procedures are followed to achieve the highest standard of technical competence. Assessment process includes staff qualifications and competence, training and development, and documenting processes. Receiving this accreditation certifies that we meet international standards for our products and services, and we are delighted with this as it highlights our commitment to offering consistent and quality service across the board.
Quinn Lawyers is also a proud member of the Law Society of NSW.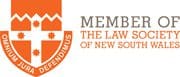 Visit the 
Our Services
 page for a more comprehensive list of services and advice that The Quinn Group can provide for your business. Alternatively, submit your enquiries or questions by using the Express Enquiry form on the right hand side of this page, or call us on +61 2 9223 9166.
© The Quinn Group Australia Pty Ltd ABN 86 078 526 860
The Quinn Group operates Quinn Consultants, Quinn Lawyers, Quinn Financial Planning and Quinn Financial Solutions. The Quinn Group provides related information in regard to legal, accounting and financial planning issues. Liability limited by a scheme approved under Professional Standards Legislation* *other than for the acts or omissions of financial services licensees.